Dyslexia
Scenario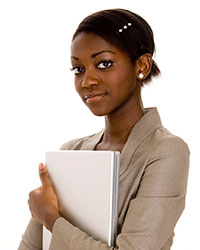 Sylvia had known she had dyslexia since she was 9 years old. A very bright, articulate, honours student in high school, Sylvia needed few accommodations until she arrived at university.
Her first semester was difficult as she carried a full course load and she began to see her grades fall below what she expected. She understood the material taught in class, attended all classes and labs and even met occasionally with a tutor. Her understanding of the material seemed average until she was faced with an evaluation that entailed material that was not covered in class lectures, but rather taken from the readings.
Despite having average reading comprehension skills, Sylvia could not keep up with the quantity of reading for her courses. Along with numerous chapters to be read, extra readings were frequently added to the course syllabus.
The Disability Services Office began discussions with Sylvia about her using reading software and carrying a reduced course load. Reluctant at first, as she had never needed reading software in the past, she received the necessary training and began to use it on a regular basis. Being a good self-advocate, she contacted her instructors and requested a list of reading materials that she could access ahead of the beginning of the semester. This would allow her to get an electronic copy of the readings. As for the extra readings, she also explained to the instructor the importance of accessing fully legible, high quality digital copies of her readings for her to use with the software. These were released to her a few days ahead of other students so that she could begin her readings early.
The reduced course load helped Sylvia find much needed time during the day to read, understand, and study for her courses. She began to meet regularly with her tutors.