Brain Injury
Scenario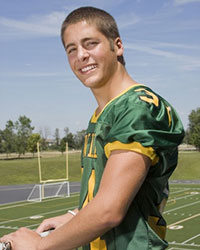 Josh is a 19-year old sophomore at a small university where he has a scholarship to play on the football team. During the first home game Josh was tackled and briefly lost consciousness. He was taken off the field and examined at the local hospital and diagnosed with a concussion. His doctor prescribed complete rest for one week before returning to academic studies and to avoid football activities until his symptoms subside.
Josh missed the next game but participated in practice the week after, even though he was still experiencing some headaches. During practice he sustained another blow to the head when his helmet made contact with a teammate's. He was taken off the field feeling dazed, but shook it off and assured his coaches that he was fine.
Over the next few weeks Josh experienced constant headaches and fatigue. He missed several assignment deadlines in his classes. His instructors noted that the work he did hand in was inadequate and his handwriting is practically illegible. His coach noticed that Josh's speech seemed slurred and his eyes appeared unfocused, and suspected that Josh was partying a lot, and perhaps even over drinking and using drugs. Josh assured his coach that he drinks very little and does not use drugs and would work harder in his classes. Unconvinced that all was well, coach advised Josh to make an appointment with the campus disability services office (DSO) to see if they could provide some assistance.
He was reluctant at first but, after failing two midterms, Josh eventually made an appointment with the coordinator of the campus DSO. After taking Josh's history, the DSO coordinator suspected that he was suffering effects from concussion. She referred him to meet with a neuropsychologist, who met with him and diagnosed Josh with post-concussive syndrome. She recommended that Josh take a reduced course load and make use of accommodations through the DSO, such as extra time and a scribe on tests, a note taker in all his classes, and tutors who could help Josh keep on top of class materials and deadlines. She also recommended that Josh see his doctor for possible referral to speech language and rehabilitation professionals.
After consulting with his doctor, Josh decided he had to medically withdraw from university for one semester and focus on recovery. He was able to return to studies for the winter semester on a reduced course load. With accommodations from the DSO and the assistance of his tutors Josh was able to pass all his classes. He still experiences headaches and fatigue but his symptoms are slowly getting better and he is hopeful that he will be able to return to the football team in his junior year.